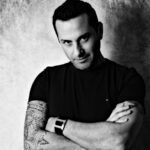 Music Producer / DJ / Performance
Since the mid-90s the French artist Jack Bridge has build an eclectic Techno music, and offers both progressive and mental. After decades of playing behind the decks, Jack Bridge returns with his full night project. 

Danceoor Killer he offers an uncompromising selection. Equally at ease in a DJ set as in live, he sets the scene ablaze with his sound signature. 

It is borrowed from the spirit of the Raves who fed it.